EV12033 accu 12 volt 33 ah Electric Vehicle VRLA
EAN code:
8717101003336
SKU code:
VRLA EV12033 accu 12 volt 33 ah
De VRLA EV12033 accu 12 volt 33 ah accu is een VRLA-EV = Electric Vehicle accu (ca.600x oplaadbaar). Deze EV accu's zijn lekvrij omdat het zuur niet meer vloeibaar is. De accu is multifunctioneel inzetbaar zoals bij : elektrische scooters, elektrische rolstoelen, elektrische step, scootmobiel, badliften, intern transport, zonnepanelen, hoogwerkers, licht / boord accu (Camper, Caravan, Boot), golfkarren, schrob-veeg machines, elektro motoren, elektrische varen, voerboot, visfinder, noodstroom (computers, alarm, ups), elektrische pallet wagens, enz. Voor elke situatie een passende oplossing. Een iets duurder en beter alternatief is de LPCG 12-31 GEL accu.

- Bij montage van meerdere accu's moet u er voor zorgen dat de spanning, type, capaciteit en leeftijd gelijk is.
- Bij accu pakketten is het verstandig om deze compleet te vervangen om schade te voorkomen.
- Zorg ervoor dat u een geschikte lader heeft met de juiste capaciteit en plaats nooit zomaar grotere accu's.
- Als u de VRLA accu's langere tijd niet gebruikt dan 1 keer per maand opladen.
- Meer info vind je in de rubriek Algemene gebruiksaanwijzing en Technische informatie.

Enkele kenmerken van VRLA Electric Vehicle accu's: 
Nooit meer bijvullen
Multifunctioneel
A-kwaliteit
Lage interne weerstand
Zeer geringe zelfontlading
Kunnen op de zijkant gemonteerd worden
Lekvrij en gasdicht
Onderhoudsvrij 
Gevuld en geladen
Direct gebruiksklaar
Omdat wij het complete assortiment op voorraad hebben zijn alle VRLA Electric Vehicle accu's in deze rubriek uit voorraad leverbaar (anders wordt het duidelijk vermeld). 
Prijzen zijn inclusief b.t.w. en wij tellen geen lood of milieu toeslag. 

Vandaag online besteld, de volgende werkdag in huis, afhalen kan natuurlijk ook.   



Bel dan 073-6445734 of mail [email protected] of kom langs
Kenmerken van de VRLA EV 12033  :

| | |
| --- | --- |
| DIN: | VRLA EV12033 |
| Volt | 12 volt |
| Ampère | 33 ah |
| Lengte | 195 mm |
| Breedte | 130 mm |
| Hoogte | 155 / 168 mm |
| Gewicht | 10.5 kg |
| Lay-out | 1 = + links voor |
| Terminal | T6 = M6 boutje |
Zorg er altijd voor dat u altijd op de hoogte bent van hoe u met het product moet omgaan, u mag altijd bellen.
Folder VRLA EV Electric Vehicle Battery
Specificaties VRLA EV Electric Vehicle Battery

Gebruiksaanwijzing VRLA EV Electric Vehicle Battery

Veiligheid en garantie
Gelijkwaardig aan de volgende accunummers:

Greensaver SP38-12 & SP27-12, Cellpower CPC 33 - 12, LPC 12-33, MK Battery MU-1 SLD M-33, LPCG 12-31, LP 12-33, TP-33E, Sonnenschein GF12 025YG, Wing ESL 33-12, Move MPA 34-12, Move MPX 34-12, Sigma Power Systems SG12350FP, MK Battery MU-1 SLD A, Fiamm, Victron, Pdq, Yuasa, Exide, Full River DCG32-12, Full River DC35-12A, Dyno DGY12-33EV, PBQ C 33-12, Cellpower CPX 33-12, Cellpower CPC 38 - 12 S, Platinum PAGM33-12, VMF DC36-12, Enduring 6GFM35, Long U1-36NE
Compatibele voertuigen
Merk
Scooter Type
Access Point Medical
AXS5018, AXS5020, AXS-6000, AXS-7000, AXS33F
Afikim Electric Vehicles
Breeze C
Amigo Mobility
FD (Front Drive), Value Shopper, Value Shopper XL (2 each)
Amigo Mobility
RD (Smart Shopper, Excite, Power Shopper, EXT350, HD450)
Braun
T1100/ T1200F (series 4 & after)
Bruno
*PWC-2200 RWD, PWC-2300 FWD, Cub RWD (*Optional Cub 46 only)
CTM homecar
HS 570
CTM homecar
HS 580
CTM homecar
HS 665
CTM homecar
HS 666
CTM homecar
HS 686
CTM homecar
HS 730
CTM homecar
HS 2800
CTM homecar
Compact Power Chairs
CTM homecar
HS 585
Dalton Medical
ePower aluminum, ePower Pediatric
Dalton Medical
Primechair PC-MP3CM2, MW, RW
Dalton Medical
3 wheel SC-135 HD, 4 wheel SC-S145 HD
Damaco
Ovation, Electro-Lite, Elite
Damaco
D90, D98
Dietz
Aruba
Drive Medical Design
Cirrus - (DP116, DP118, DP120), Cirrus Plus EC
Drive Medical Design
Catalina, Image EC, Image GT, Intrepid, Medalist, Pilot, Renegade, Sunfire General
Drive Medical Design
Image, Cirrus Plus, Odyssey, Sunfire Plus, Gladiator GT, Sunfire General, Sunfire Plus GT
Drive Medical Design
Sunfire Plus EC, Titan, Trident, Ventura DLX, Wildcat
Drive Medical Design
Denali
Electric mobility
Turnabout Deluxe 33
Electric mobility
Turnabout Heavy Duty
Electric mobility
Lil Viva (410 PC)(250 PC)
Electric mobility
Rascal 200T
Electric mobility
Rascal (388) (388XL)
Electric mobility
Rascal 309 LE
Electric mobility
Rascal (388D) (388S)
Electric mobility
Rascal 600F
Electric mobility
Rascal 600T
Electric mobility
Rascal 205
Electric mobility
Rascal 200
Electric mobility
Rascal 130
Electric mobility
Rascal 305
Electric mobility
Rascal 310
Electric mobility
Rascal 325
Electric mobility
Rascal 300
Electric mobility
Rascal 250
Electric mobility
Rascal 255 (255JS)
Electric mobility
Rascal (235)(245)
Electric mobility
Rascal 302LE
Electric mobility
Compass 330
Electric mobility
Stowaway
Electric Mobility
Rascal Vantage
Electric Mobility
Rascal Frontier
Electric Mobility
Rascal P327 Mini
Electric Mobility
Rascal P200 Mini
Everest & Jennings
Metro Power, Metro Power III, Navigator, Quest, Sprint II, 3N, Tempest, Kid Power
Evermed
ECS, EBS
Fortress Scooters
1700FS, 1704FS
Fortress Scooters
2000FS Three & Four Wheel
Fortress Wheelchairs
Lunar 4
Fortress Wheelchairs
Star 3 & Star 4, Star 4S
Frank Mobility
BUZZ EX (3&4 WHEEL)
Frank Mobility
GP605 COMPASS SPORT
Frank Mobility
GP205 ALANTE SPORT, GP207 ALANTE
Freerider
Knightsbridge
Freerider
Mayfair (All models)
Freerider
Appollo Jnr Mk II
Freerider
Kensington (All models)
Graham Field
Hot Wheels, Carrette, Mobie, Everest
Graham Field
Sabre LTD, Marathon, Marathon LE, 3P, 3W, 3H, 3V, Magnum
Graham Field
Xcaliber, Sprint, Sprint Plus, MX, Sabre ES, Sabre ES-GT (22NF)
Handicare Wheelchairs
Eligo 2
Heartway USA
HP4 Rumba S
Heartway USA
P4F Rumba SF
Heartway USA
P4R Rumba SR
Heartway USA
HP5 Escape DX
Heartway USA
HP8 Escape LX
Heartway USA
Flyer P25J
Hoveround
MPV1-MPV5, HRV 100, Activa LX, Activa DM
Hoveround
Activa GLX, Activa Forerunner
Invacare
Power 9000 (16" or wider), Ranger II RWD, R51LXP
Invacare
New Nutron Series: R32LX, R50LX, R51LX, R51, Excel
Invacare
New Nutron Series: R32, Pronto M6, P9000XDT
Invacare
P7E, LX-3, LX-3 plus & LX-4 Scooters, Ranger II, FWD Jr., Pronto M71
Invacare
Pronto M50, M51 & M51-CG, Pronto R2 250-series, Pronto M41, Excel 250-series
Invacare
Ranger II 250-S FWD/RWD/MWD, TDX Spree, TDX SC
Invacare
Leo
Invacare
Leo 4
Karma Medical Products
KS-636, KS-646, KS747, KP25, KS-343, KS-333
Kymco
Super 4 ForU (EQ30BB)
Kymco
Super 6
Kymco
Super 8 ForU (EQ35CB)
Landlex
Broadway RS 3
Landlex
Broadway RS 4
Leisure Lift/Pace Saver/
Scout Midi-Drive: (RF, NP )
Leisure Lift/Pace Saver/
Scout M Series: (M1, M1 PBR, M2)
Leisure Lift/Pace Saver/
Passport (All), Plus III (All), Junior Premier
Leisure Lift/Pace Saver/
Espree (All), Eclipse (All)
Mango Mobility
Panther 3
Merits
Mini 4-Wheel Electirc Scooter (S2455)
Merits
MidIi Electric Scooter (S742, S742A)
Merits
Vison CF (P322)
Merits
Vision Sport (P326A)
Merits Health Products
MP1IN, MP1IA, MP1IW (Travel Ease), MP1IN-FR, MP1IA-FR
Merits Health Products
MP3CF, MP3F, MP3C, MP3U
Merits Health Products
Pioneer 3 (S131, S1312, S1313), Pioneer 4 (S141, S1412, S1413)
Merits Health Products
Pioneer (S132, S133, S135, S142, S143, S145)
Merits Health Products
Travel-Ease (P101, P107, P171, P200)
Merits Health Products
Travel-Ease Regal (P31862, P310, P318, P328), Mid-Wheel Drive P326
Merits Health Products
Travel-Ease Regal (P313, P314, P31312, P31461, P31411, P31362)
Merits Health Products
Pioneer 3 (S132, SP43), Pioneer 4 (S142, SP44)
Molenaar
Elegance 4
Ortho-Kinetics
Sierra, Colt, Encore, Triumph, MVP, Explorer, Lark 3 & 4
Ortho-Kinetics
Lark XT, Bravo, Bravo Plus, Pony
Otto Bock
A200, Skippi
Practicomfort
Beaufort 9
Practicomfort
Boogie
Practicomfort
Dixie
Practicomfort
Jive 1
Practicomfort
Jive 1-NR
Practicomfort
Jive 1-SL
Practicomfort
Jive 1-SLD
Practicomfort
Jive 2
Practicomfort
Jive 2-SL
Practicomfort
Jive EMC
Practicomfort
MobiGo F33
Practicomfort
MobiGo F33 XL
Practicomfort
MobiGo F40
Practicomfort
Polka 2
Practicomfort
Twist
Practicomfort
Twist 2
Pride
LX
Pride
1103 Ultra
Pride
Celebrity
Pride
Celebrity (3)(4)(XL)(99)
Pride
Celebrity XL
Pride
Celebrity XL3
Pride
Colt
Pride
Colt Twin
Pride
Colt Plus
Pride
Colt Plus 3
Pride
Cyclone
Pride
Destiny
Pride
Jazzy Go 2 Powerchair
Pride
Jazzy Select 6
Pride
Jazzy 610 Powerchair
Pride
Jazzy 1103 Ultra
Pride
Jazzy 1107 Powerchair
Pride
Jazzy 1113 Powerchair
Pride
Jazzy 1143 Powerchair
Pride
Jet (3)(7)
Pride
Legend
Pride
Legend Classic (3)(4)(XL
Pride
Maxima-V
Pride
Maxima 3 Wheel
Pride
Quantum 610
Pride
Quantum Dynamo 1107
Pride
Quantum 1107
Pride
Quantum Dynamo ATS
Pride
Shuttle, Sidekick, Sundancer, Victory, Maxima, Dynamo (discont.), Legend
Pride
Rally
Pride
Rally Shopper
Pride
Revo
Pride
Revo 4
Pride
Sundancer
Pride
Victory
Pride
Victory 9 (3 Wheel), Victory 9 (4 Wheel)
Pride
Victory 10 (3 Wheel), Victory 10 (4 Wheel)
Pride
Boxster (discont.)
Pride
Victory Economy
Pride
Sidekick
Pride
Shuttle
Pride
Jazzy 1113 ATS
Pride
Dynamo
Pride
Pursuit
Pride
Revo
Pride
V10
Pride
Vista
Pride
Revo, Jazzy Select Traveller, Select, Select Elite, Select 6 & 7, Quantum 610, Select 6 Ultra, Jazzy Elite ES
Quickie
Jazzy Sport 2, J6, Jazzy Elite ES-1, Jazzy Elite ES Portable
Quickie
V100, P110, P190, Z500, V121, S525, V521
Quickie
P110 (14" wide), V121 (14" wide), V521 (14" wide), S-11, Rhapsody, Prelude
Quickie
Freestyle Mini, Zippie Z-Bop
Quingo
Classic
Ranger All Seasons
Aspire M10/M11, Freestyle M11
Ranger All Seasons
1x3, 2x3
Redman Wheelchairs
Solo, Safari
Redman Wheelchairs
107SRX
Shoprider
6 Runner 10
Shoprider
6 Runner 10 Deluxe
Shoprider
Cadiz
Shoprider
Cadiz 4
Shoprider
Seville
Shoprider
Sunrunner 3
Shoprider
Sunrunner 3 Deluxe
Shoprider
Sunrunner 4 Deluxe
Shoprider
Sunrunner (B3)(B4)
Shoprider
Sunrunner Deluxe(3,4
Shoprider
Streamer Sport
Shoprider
FPC
Shoprider
Sovereign 3
Shoprider
Soverign 4
Shoprider
Sirocco Powerchair
Shoprider
Trooper
Shoprider
Verona Powerchair
Shoprider
TE-778 NR
Shoprider
TE888NR
Shoprider
GK-10
Shoprider
Perrero
Shoprider Mobility
Deluxe
Shoprider Mobility
Streamer (888W, 888WA), Sovereign (888-3, 888-4), Sunrunner 3 (888B-3) & 4 (888B-4) (incl. Deluxe)
Shoprider Mobility
Streamer Sport 888WA-RED, FPC (PHFW-1118, PHFW-1120),
Shoprider Mobility
Wizz (888WNL, 888WNLB), 6Runner 10 (888WNLM), Trooper
Shoprider Mobility
6Runner 10 Deluxe, Streamer Mid-Size (888WS)
Shoprider Mobility
Jetstream L (888WAL), Jetstream M (888WAM)
Shoprider Mobility
6Runner10 Rehab (888WNLM-R)
Shoprider Mobility
Sprinter, 889-3, 889-4, Sprinter XL4 (889B-4)
Sunrise medical
Saphire (All models)
Sunrise medical
Emerald
Sunrise medical
Star Plus (3)(4)
Sunrise medical
Star 4
Sunrise medical
Strider
Sunrise medical
Breezy P100
Sterling
LX
Sterling
1103 Ultra
Sterling
Celebrity
Sterling
Celebrity (3)(4)(XL)
Sterling
Colt
Sterling
Colt Twin
Sterling
Colt Plus
Sterling
Colt Plus 3
Sterling
Cyclone
Sterling
Destiny
Sterling
Jazzy Go 2 Powerchair
Sterling
Jazzy Select 6
Sterling
Jazzy 610 Powerchair
Sterling
Jazzy 1103 Ultra
Sterling
Jazzy 1107 Powerchair
Sterling
Jazzy 1113 Powerchair
Sterling
Jazzy 1143 Powerchair
Sterling
Jet (3)(7)
Sterling
Legend
Sterling
Legend Classic (3)(4)(XL
Sterling
Maxima 3 Wheel
Sterling
Quantum 610
Sterling
Quantum Dynamo 1107
Sterling
Quantum 1107
Sterling
Quantum Dynamo ATS
Sterling
Rally
Sterling
Revo
Sterling
Revo 4
Sterling
Sundancer
Sterling
Victory Economy
Sterling
Sidekick
Sterling
Shuttle
Sterling
Jazzy 1113 ATS
Sterling
Dynamo
Tuffcare
Escort, Limo, Challenger
Vermeiren
Jupiter 3
Vermeiren
Saturnus 3
Vermeiren
Saturnus 4
Wu's Tech
Mambo 211, 211
Wu's Tech
Mambo 319, 365, 366, 118A
Wu's Tech
M3Jr.G, M4JR.G, M4Jr.G6, M4Jr.G8, ML4S
Wu's Tech
M3JRH, M4JRH, M4JH6, M3B, M4B
Wu's Tech
L4JRA
Zip'r Mobility Solutions Corp.
Breeze 3 & 4, Mantis, PC
| | |
| --- | --- |
| DIN: | VRLA EV12033 |
| Voltage (V): | 12 |
| Ampère (Ah): | 33 |
| EN CCA (A): | --- |
| Lengte (mm): | 195 |
| Breedte (mm): | 130 |
| Hoogte (mm): | 155/168 |
| Gewicht (Kg): | 10,50 |
| Layout: | 1 = + links voor |
| Terminal: | T6 |
| Holddown: | --- |
Gerelateerde producten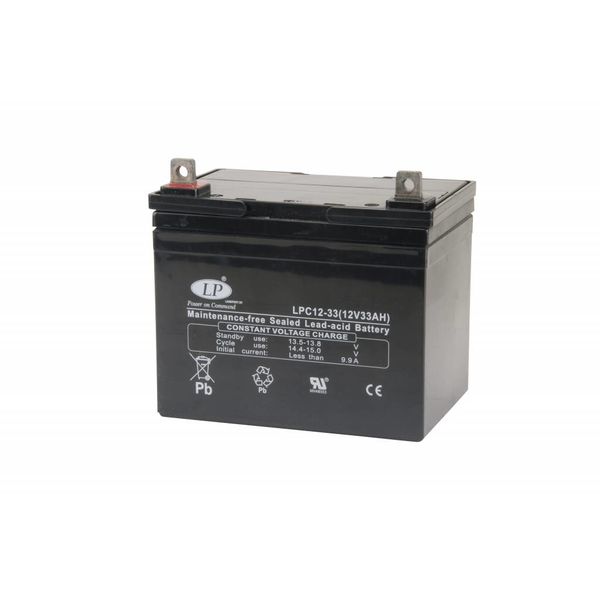 Backorder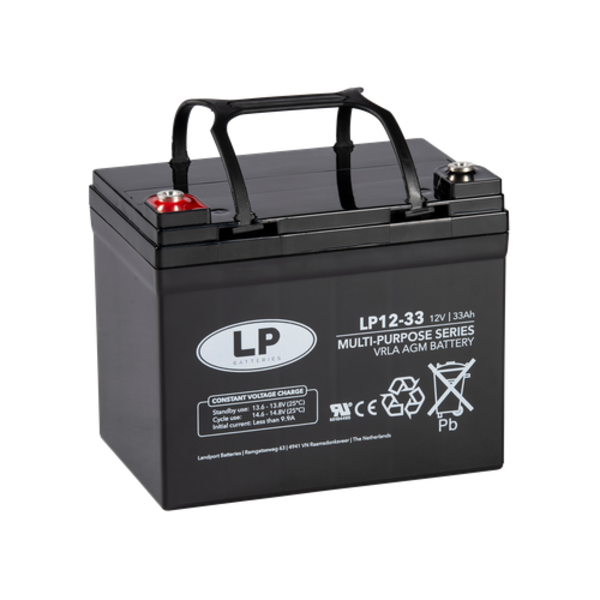 Backorder